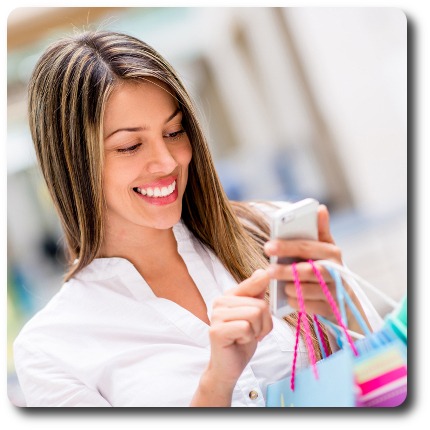 Article by Jeff Koch.
Yet again, the holiday season's been dominated by online sales. Medias reporting strong sales gains through online retailers. Amazon's now the world's largest retailer. Seems like the same report every year. I want a piece of the pie.
For simplicity, we'll use round numbers. If online sales are up 10% and overall sales are up 3%, then in-store sales are down 7%, right? Makes sense since Macy's online sales are up yet they're closing 100 stores. Seems to be a trend with big box retailers. It isn't that sales are increasing dramatically, 3%, it's how customers are shopping that's changing dramatically. Online sales are supposed to be incremental, not detrimental to in-store sales.
I often listen to Jim Cramer of CNBC fame on my many trips. Overall, I think he's knowledgeable on business practices and offers good insight into market trends. His broad knowledge of market segments leads me to believe his crystal ball's a little clearer than others. He recently interviewed the CEO of Nordstrom. In a nutshell, the CEO of Nordstrom was waving the red flag signaling poor 4th quarter sales mainly due to a sharp decrease in mall traffic. Duh, mall traffic's been declining for years so why would this year be any different?
The next phase of the interview I'll paraphrase. Asked how will you turn around sales, the CEO said a multi-million dollar investment to develop their online shopping experience. To which Cramer replied, Nordstroms business model's built on strong attention to the shopping experience. Nordstroms core customer desires the experience, so shouldn't you be looking at ways to enhance the in-store experience? Won't you be driving your existing customer online, thus reducing in-store shopping with no real sales gain? Cramer's summary; focus on bringing in more customers and let your experienced, knowledgeable sales professionals do the rest. Invest in what you do best, serve the customer.
In a round about way, Jim's speaking to all of us independent Jewelers. Why spend resources developing e-commerce that'll yield little or no real sales growth. Instead, invest in ways to increase store traffic and let your sales professionals do the rest. Yes, you need a great website, but it needs to drive traffic INTO your store. One designed to get your store noticed. To highlight all you have to offer. Spend more time cultivating and connecting with new and existing consumers. The internet isn't going away; use it to your advantage.
For more information on how to achieve measurable sales increases visit fourgrainer.com
Written by Jeff Koch – Four Grainer Contributing Author
Contact Jeff Koch – LinkedIn
The following two tabs change content below.
President of Four Grainer LLC, jewelry business strategist, and the host of "Inside the Jewelry Trade" online radio show. Rod brings 25+ years of retail jewelry success and leadership to the table. He is the author of the business books "A Reason To Chant," and "A Reason to Chant - Jewelry Trade Edition." Rod lives in Atlanta with his wife and two almost-human cats.
Latest posts by Rod Worley (see all)