Podcast: Play in new window | Download
Subscribe: Apple Podcasts | Android | Email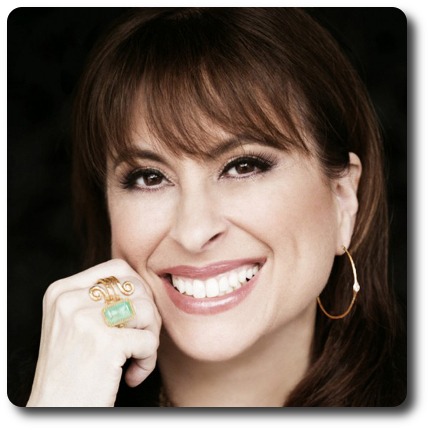 Pamela Froman is the 2015 Women's Jewelry Association "Excellence in Design" award winner.
We get the chance to talk to this multiple design award winner about the award, being an American based jewelry designer, and the future of the jewelry trade.
– CLICK ON PHOTO FOR SHOW NOTES –
Beside the "WJO" award, Pamela has won a dozen major jewelry design awards since 2006.
She is best known for her innovative handmade pieces that combine multiple colors of 18kt gold, finished with her signature "Crushed" texture
Every Pamela Froman jewelry creation is made by hand in California.
Mentioned In The Show & Links
Connect with Pamela on social media:   Blog     Facebook      Instagram      LinkedIn       Twitter 
Call directly:    323-954-7436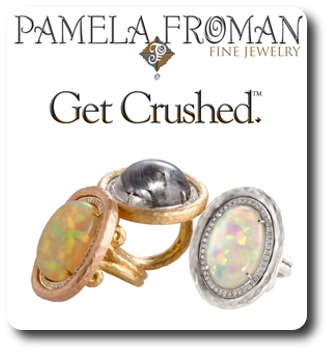 Design Thoughts From Pamela Froman
"Individuality is the underlying theme of beauty.
I believe that the more a piece is worn the more beautiful it is because it becomes part of the person's essence.
Two people can wear the same piece and it will have a different look or give off a different aura.
My mission is to create handmade jewelry of the highest quality; therefore, each piece is thoughtfully designed with 22k, Platinum, or an array of different colored 18k gold, so that everything from the cut, the color, and even the clarity of the stones flow seamlessly to complement the overall look of the design.
I like to think that if my jewelry were someday discovered in an old buried treasure chest, it would stand the test of time, much like the antiquities of the great civilizations do today."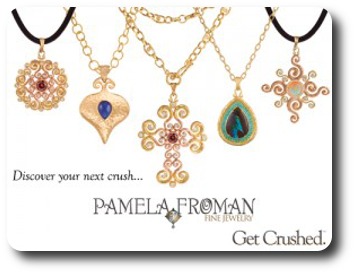 Prestigious Jewelry Design Awards
– JCK Rising Star award, 2006
– Town & Country award, 2006
– Town & Country Couture Design Award for Best of Gold, 2008
– Spectrum Awards Consumer's Choice Honor, 2009
– MJSA Vision Award, 2009
– The WJA Diva award,  2009
– The Couture Design Award for Best of Bridal, 2009
– MJSA Vision Award, 1st Place in Gold Distinction,  2010
–  AGTA Spectrum Award Winner, 2011
– Diva award winner, 2012
– AGTA Spectrum Award winner, 2013
– Woman's Jewelry Association Award for "Excellence in Design", 2015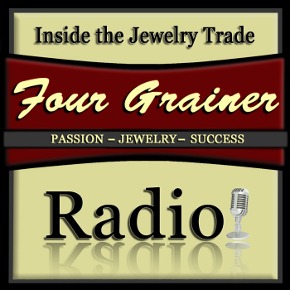 More About "Inside the Jewelry Trade" Radio Show
This is the online radio show devoted to jewelry store owners, the jewelry trade, and those who want to get a rare glimpse behind the curtain into the $70 billion dollars a year U.S. jewelry and watch industry.
We give you access to jewelry designers, vendors, successful store owners, and those who have the proven expertise you need to move your jewelry business forward right now.
This radio show is for those in the jewelry trade who expect more from their business and want to cut through the clutter to find out what really works.
Mission Statement:  Simply to be a conduit of relevant information that strengthens and elevates the jewelry trade in the competitive global luxury market.
Start Getting Results From Your Online Marketing Today!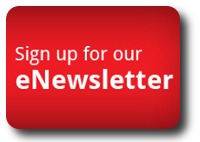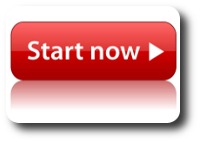 The following two tabs change content below.
President of Four Grainer LLC, jewelry business strategist, and the host of "Inside the Jewelry Trade" online radio show. Rod brings 25+ years of retail jewelry success and leadership to the table. He is the author of the business books "A Reason To Chant," and "A Reason to Chant - Jewelry Trade Edition." Rod lives in Atlanta with his wife and two almost-human cats.
Latest posts by Rod Worley (see all)