Podcast: Play in new window | Download
Subscribe: Apple Podcasts | Android | Email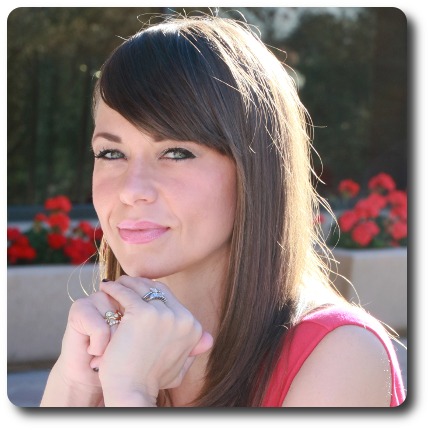 Barbara Palumbo is our featured guest this week.
She is an eighteen-year veteran of the jewelry industry who shares her insights into the new emerging jewelry trends you should know about.  Wondering what it takes to be safe in today's jewelry world and how do you get the most out of attending a jewelry trade show?
– CLICK ON PHOTO FOR SHOW NOTES –
She currently writes the popular jewelry trade blog, Adornmentality.com and serves as the Director of Business Development, South for the longtime luxury brand, GUMUCHIAN.
Barbara is a mother of two, has been married to her husband for ten years, and is an avid traveler.
The Gumuchian Story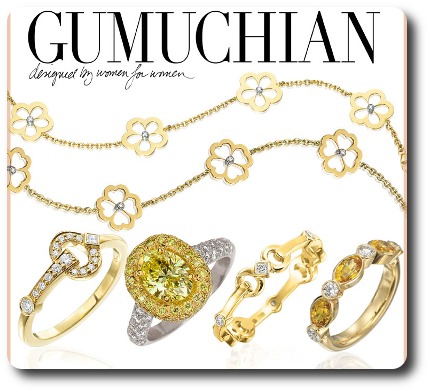 Gumuchian is a gem of a jewelry collection that's treasured by the cognoscenti who can spot true European craftsmanship and superior design a mile away.
Owned and operated with meticulous attention to quality by Anita Gumuchian and daughters Myriam and Patricia, this boutique company is proud to do it all, from the selection of brilliant diamonds through their family-run offices in Antwerp, to the actual manufacturing in the heart of New York.
These three women design every piece of their sparkling collections with an intuitive feel for what modern women of style crave today.
Generations of experience combined with pure passion glow through: owning a Gumuchian is owning a piece of art.
Mentioned On The Show
Adornentality.com.  A blog for people with jewelry on the brain.  Insightful, engaging, humorous, and highly recommended reading.
Brittany Siminitz, JCK Marketplace Manager.  "On Your Market" –   JCK Marketplace maven Brittany Siminitz reports on the latest products and style trends.
Centurion Jewelry Show.  The art of jewelry trade shows.
David J. Bonaparte, President, and CEO of Jewelers of America.    With a mission to increase consumer confidence in the jewelry industry, Jewelers of America advocates professionalism and adherence to high ethical, social and environmental standards.
Erika Winters.    Erika is a jewelry writer and editor at Pricescope. She writes the Pricescope Jewelry Blog and contributes articles, tutorials, and educational jewelry guides.
Kathy Davis Designs.  Atlanta based jewelry and watch designer.
Monica Stephenson.  The gem-obsessed writer of an insider's guide to jewelry at the award-winning blog idazzle.com.
Patricia Arquette.   Patricia Arquette speaks after winning the Oscar for Best Supporting Actress for her role in "Boyhood" at the 87th Academy Awards in Hollywood, California February 22, 2015.
Peggy Jo Donahue.  Director of the non-profit MJSA Education Foundation.
Skydas Group International.    The Skydas Group is a wide spectrum strategic security consulting and threat management firm.
STJA Jewelry Show.  The Southern Jewelers Travelers Association (SJTA) show held in Atlanta, GA.
Todd Reed, Jewelry Designer.  Every piece of jewelry we make has its own unique story; no two pieces are alike.  We are passionate about everything we do at Todd Reed, from concept to finished quality.
Traci Gingold Designs.   Traci Gingold Designs creates beautifully handcrafted pieces made from the finest gemstones, 14kt gold, and oxidized sterling silver.
Women's Jewelry Association.    To help women in the jewelry and watch industries advance and develop professionally through networking, education, leadership development and the provision of member services.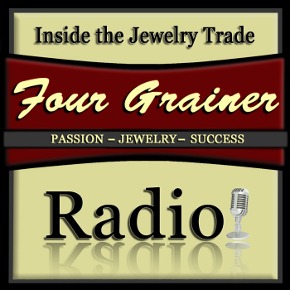 More About "Inside the Jewelry Trade" Radio Show
This is the online radio show devoted to jewelry store owners, the jewelry trade, and those who want to get a rare glimpse behind the curtain into the multi-billion dollar a year U.S. jewelry and watch industry.
We give you access to jewelry designers, vendors, successful store owners, and those who have the proven expertise you need to move your jewelry business forward right now.
This radio show is for those in the jewelry trade who expect more from their business, and want to cut through the clutter to find out what really works.
Mission Statement:  Simply to be a conduit of relevant information that strengthens and elevates the jewelry trade in the competitive global luxury market.
Start Getting Results From Your Online Marketing Today!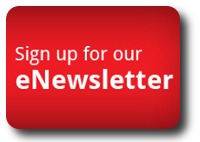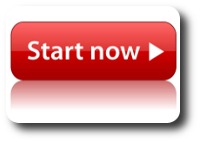 The following two tabs change content below.
President of Four Grainer LLC, jewelry business strategist, and the host of "Inside the Jewelry Trade" online radio show. Rod brings 25+ years of retail jewelry success and leadership to the table. He is the author of the business books "A Reason To Chant," and "A Reason to Chant - Jewelry Trade Edition." Rod lives in Atlanta with his wife and two almost-human cats.
Latest posts by Rod Worley (see all)